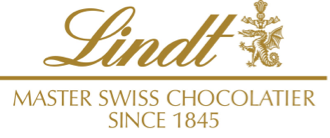 Lindt Chocolate Spread Swirl Muffins Recipe
These muffins combine both vanilla and chocolate batter, swirled together. The chocolate batter is made using our Lindt Milk Chocolate and Hazelnut Spread.
1 Cup (250 mL) Granulated sugar
⅓ Cup (80 mL) Vegetable oil
2 Large eggs
½ Cup (125 mL) 14% Sour cream
½ Cup (125 mL) Whole milk
2 Cups (500 mL) All purpose flour
1 Tsp (5 mL) Baking powder
½ Tsp (3 mL) Baking soda
½ Tsp (3 mL) Salt
¼ Cup (60 mL) Lindt milk chocolate hazelnut spread
Preheat oven to 350°F. Line a 12-cup muffin tin with paper liners.

In a large bowl whisk together granulated sugar, vegetable oil, eggs, sour cream and milk. Whisk well to combine.

In a separate bowl, whisk together flour, baking powder, baking soda and salt.

Tip flour mixture into egg mixture and mix until just combined. Remove 1 ½ cups batter to a separate bowl. Mix the Lindt Milk Chocolate Hazelnut into remaining batter until well combined.

Place 2 tbsp chocolate batter in the bottom of each muffin cup. Top with 2 tbsp vanilla batter, followed by 1 tbsp chocolate batter.

Use a skewer to swirl batters together. Bake muffins on the middle shelf of the oven, for 20-22 minutes, until a skewer inserted into the center of a muffin comes out clean.

Let cool slightly before serving warm with more chocolate spread.